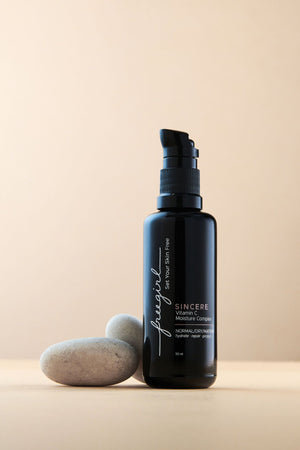 Sincere Vitamin C Moisture Complex
Sale price Price $70.00 Regular price Unit price / per
Tax included.
This multitasking, brightening Vitamin C complex supports healthy skin while improving textural imperfections over time. 
This brightening, 5-star rated Vitamin C moisturizing crème checks all the boxes: regenerative, protective, and deeply hydrating—but never greasy or heavy. Each application is a sensory journey, from the silky feel to the spa-like scent. 
An abundance of Vitamin C & A improves the look of scar tissue caused by acne, deep wrinkles, UV damage, and hyperpigmentation. Carrot and Comfrey bring antioxidants, protecting against free radicals, and providing regenerative properties. 
For Skin Types: Normal, Dry, and Mature Skin 
For Skin Conditions: Acne scars, deep wrinkles, UV damage, and hyperpigmentation
50 ML | 1.6 oz.
——
Freegirl's Standards. Freegirl's Promise.
Every one of Freegirl's products is MADE SAFE® certified, so you can shop confidently knowing our products are free from harmful chemicals and help to sustain our ecosystem. Freegirl is proud to lead the way in providing natural, luxury products for the conscious customer.